March 20, 2017 (six minutes)
Ray had been out of town, speaking mostly about his recent stay in the Middle East  He actually had a (senior) "Aha! Moment" when he first saw C-SPAN's billing of the hearing: "Russian Election Interference."
Wow?  Was the House Intelligence Committee finally getting around to investigating how Washington got Boris the Buffoon Yeltsin re-elected in 1996, enabling Western oligarchs to complete their plunder of Russia.  Were Americans going to learn how "Russian Election Interference" carried out by the U.S., the IMF, et al. boosted Yeltsin from a candidate with single-digit approval in early 1996 to an official (but disputed) 54.4% of votes cast later that same year?
This Time cover at the time, so to speak, reflects what happened:
Time cover, July 15, 1996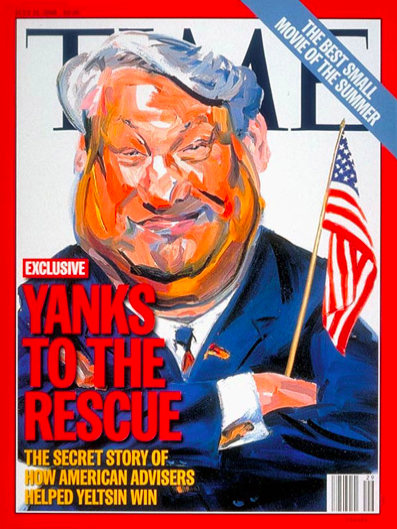 Dream on, Ray.  HPSCI would be holding an open hearing on its investigation into "Russian active measures (активные мероприятия) during the 2016 election campaign."  активные мероприятия are bad things Russian intelligence does.  
Ray's segment was preceded by a four-minute spoof by RT's Alexey Yaroshevsky who, among other things, drew attention to one of the key things Comey admitted at the hearing – namely that the Democratic National Committee would not let the FBI anywhere near their computers, so the Bureau had to rely on the contractor, Corwdstrike, for what amounted to second-hand "forensics."  Crowdstrike had been hired by and was working for the DNC.  Hmmm.  Yaroshevsky addresses Crowdstrike at minute 1:46:
Propaganda and disinformation at the Comey hearing 
March 20, 2017 (four minutes)