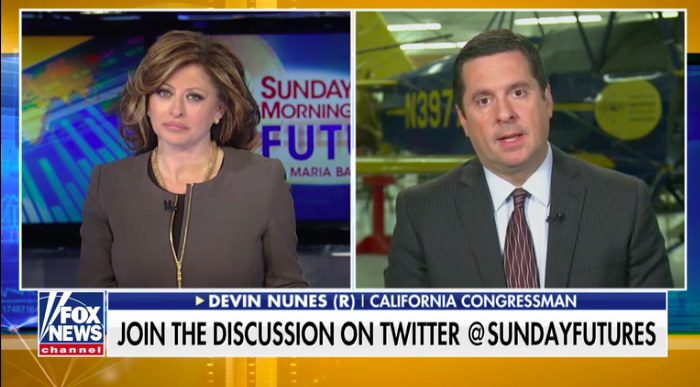 https://www.foxbusiness.com/politics/no-official-intel-used-to-start-fbi-probe-into-trump-campaign-russia-collusion-rep-nunes
April 22, 2018 (11 minutes)

House Intelligence Committee Chairman Devin Nunes said yesterday, "We now know that there was no official intelligence that was used to start this investigation."

"We know that Sidney Blumenthal and others were pushing information into the State Department. So we're trying to piece all that together and that's why we continue to look at the State Department," Nunes told Maria Bartiromo on Sunday Morning Futures.

The California Republican said he is now investigating the State Department amid signs of "major irregularities," in an effort to figure out how information about former Trump campaign adviser George Papadopoulos was obtained by the FBI.

"We know a little bit about that because of what some of the State Department officials themselves have said publicly about that," Nunes said, adding that "We have to make sure that our agencies talk and they work out problems. We have to make sure that they don't spy on either American citizens or that we're not spying on British citizens."

Still, Nunes doesn't know whether the former secretary of state and then-Democratic challenger to Trump in the election, Hillary Clinton, was pulling the strings of the investigation launched against her political opponent. However, he said it is known that two long-time Clinton associates – including Sidney Blumenthal – were "actively" giving information to the State Department, which "was somehow making its way to the FBI."


Surprise, surprise! The NY Times, Washington Post, and Wall Street Journal printed neither predicates, verbs, nouns, adjectives, or adverbs about any of this today.