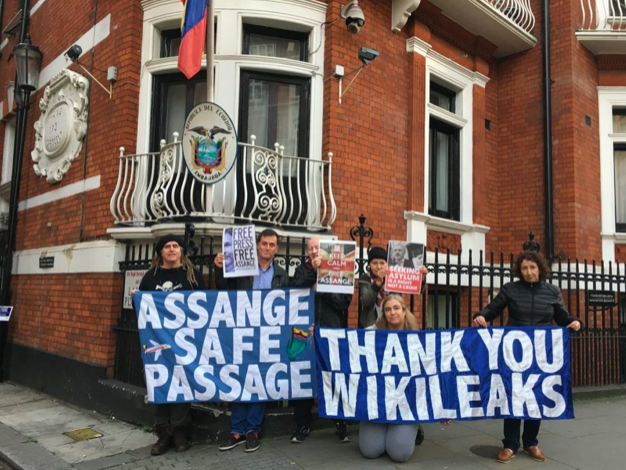 https://disobedientmedia.com/2018/04/as-assange-remains-isolated-real-time-heroes-stand-in-solidarity-outside-embassy/
By Elizabeth Vos, April 3, 2018
Long-time activist and organizer Ciaron O'Reilly and others have been keeping vigil outside the Ecuadorian embassy in London ever since Julian Assange sought political asylum there more than seven years ago.  Elizabeth Vos, Editor-in-Chief of Disobedient Media, recently interviewed O'Reilly, who explained:
"In Catholic tradition "to vigil " is to stay awake. Sometimes to danger as society slumbers. In this case in solidarity with someone under threat — Julian Assange."
O'Reilly is a member of the Catholic Worker movement founded by Dorothy Day. He told Vos that he was mentored by non-violent, anti-war priests Daniel and Philip Berrigan and, on the eve of the first Gulf War, was jailed for 13 months for disabling a B52 Bomber at an Air Force Base in upstate New York. A decade later he and four others disabled a U.S. Navy aircraft at Shannon Airport before it could fly off to bomb Iraq. "We were charged with $2.5 million criminal damage and were put on trial three times in Dublin and found not guilty unanimously by an Irish jury.
"In 2010 I co-founded a Catholic Worker house for homeless refugees in London. Julian Assange was arrested in London in December 2010, and I attended his first and all other court appearances. Along with my godson, a SAS special forces veteran of the Iraq War, I got the gig of getting Julian in and out of court safely and securely.
O'Reilly described some of the loyal activists who regularly vigil outside the Ecuadorian embassy:
"The embassy solidarity vigil is primarily sustained by a Chilean woman who survived the Pinochet coup, an Irish activist, a Colombian who survived being shot by a death squad, another Colombian torture survivor, and a Greek activist."

Elizabeth Vos's entire article is worth a read.