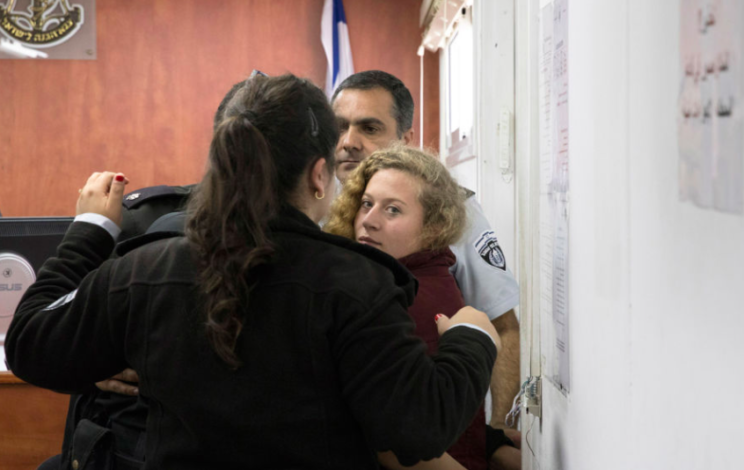 By Ben Ehrenreich, December 24, 2017
https://www.thenation.com/article/ahed-tamimi-has-become-the-symbol-of-a-new-generation-of-palestinian-resistance/
Sixteen year-old Ahed stands in a long faith tradition.  There is an interesting parallel with another teenager in Palestine; her name was Mary.
Historians speculate that Mary was around 16 when she did a very gutsy thing.  In a leap of faith, she accepted some kind of inspired messaage that she would be a mother, that she should call her child Jesus, and that Jesus's presence in the world would cause them both — and others — a whole lot of trouble.  Still is.
There are no extant tape-recordings but, according to Luke, this is part of what she was moved to say:
"I'm bursting with God-news …
God took one look at me, and look what happened …
God's mercy flows in wave after wave …
God bared his/her arm and … scattered the bluffing braggarts.
S/he knocked tyrants off their high horses,
Pulled victims out of the mud.
The starving poor sat down to a banquet;
The callous rich God left out in the cold …
It's exactly what God promised,
Beginning with Abraham, and right up to now.
translation by Eugene Peterson in The Message (non-sexist language added)
Those who read Ben Ehrenreich's article (live link above) will see what Ray is trying to say here.  Basically, it has to do with his theology, which is encapsulated in how the late Dean Brackley, SJ, described his own:  "It all depends on who you think God is, and how God feels when little people are pushed around."
Ray has the honor of knowing Ahed and the rest of the Tamimi family.  The small Veterans For Peace delegation that spent two weeks plus on the West Bank in February-March proudly marched with them and the rest of the village of Nabi Saleh. AND, that day, re-captured and occupied the spring that had been stolen by the settlers…until it was stun-gunned and tear-gassed out of the area by police called in by VERY aggressive settlers, who went for and attacked the Palestinian women first — at which point one of the younger vets, Mike Hanes, instinctively ran over to stop them.
Now young Mike had been "special forces" Marine, was in excellent condition, and could easily have done some serious harm to the cowards attacking the Palestinian women.  Later, Ray commented to Mike that his behavior was the most graphic display of non-violence he had ever seen, given the circumstances.  He smiled, "Yes, it was partly that.  But also — well, perhaps you old Army guys have forgotten, but the first thing you have to do is find out if your opponent is armed.  Those settlers were packing serious sidearms.  I could have handled that first guy, well, handily.  But I did not want any of us to be shot by the others."
The Veterans For Peace delegation stayed two nights in the Tamimi home, which, by the way, has been on the list for demolition for many years now.  Asked why his family took such great risks, particularly in view of the killings, wounding, and imprisonment (Bassem himself had been seriously injured and has done serious prison time) and the precarious status of the very house in which they lived, Bassem said, "How can I tell them not to do nonviolent resistance?  That would mean acquiescence in the occupation.  We will never do that."
Thanks go to Ben Ehrenreich for writing this piece, and to The Nation for publishing it.