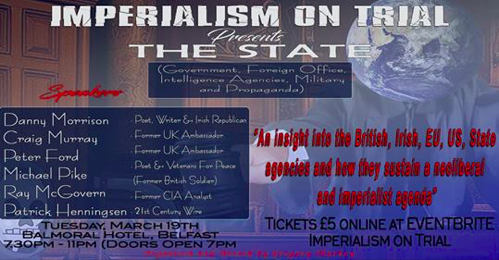 1— Shannon: On St. Patrick's Day Ray, together with other Veterans For Peace, will expose the snakes that St. Patrick's clean-up of Ireland missed — the ones who are willing to slobber over U.S. presidents and let them send arms and troops with weapons through Shannon Airport, violating Ireland's neutrality. The lingering unctuous lizards are the Irish leaders — recent and current — who turn a blind eye and deny this. The exposers include two U.S. Marine Sergeants on the current Veterans For Peace to Ireland delegation, who came through Shannon years ago, fully armed, headed off to make war in Iraq and Afghanistan.
2 — Belfast: Tuesday evening, March 19, 7:15 PM, Ray will join UK Ambassadors Craig Murray, Peter Ford, and others in a program titled, "Imperialism on Trial."  Balmoral Hotel, doors open 7.  Please click on:
https://www.eventbrite.co.uk/e/imperialism-on-trial-presents-the-state-tickets-54754836189

What can we expect in coming years from the until-now hegemon country and its vassal states?  Raise your hand if you think coercive diplomacy, sanctions, war, and threats of war are likely to sustain the Empire for very much longer.  And a pox on proxy war!  The focus in Belfast will be on the role of various state agencies in sustaining a unipolar world.
Ray will discuss MICIMATT, a new acronym for the incestuous amoral reality whose maiden name was the Military-Industrial-Complex (MIC); i. e., the Military-Industrial-Congressional-Intelligence-Media-Academia-Think-Tank complex. He'll also include remarks on "regime change" — as in Iran, Chile, Ukraine, Venezuela(?), Washington (?)

The speakers for Tuesday will be:
Danny Morrison, Former Sinn Fein Director of Publicity
Craig Murray, Former UK Ambassador to Uzbekistan
Peter Ford, Former UK Ambassador to Syria and Bahrain
Ray McGovern, Former CIA Analyst
Michael Pike, Former British Soldier, Veterans For Peace (VFP)
Patrick Henningsen, 21st Century Wire
The event in Belfast is part of a series produced by Gregory Sharkey called "Imperialism on Trial in the North of Ireland." This Tuesday event, and the one on March 21 in Derry (see below) will be live-streamed on RT UK Facebook page.
3 — Derry: Thursday, March 21, 7:15 PM, Ray will join Amb. Craig Murray, Patrick Henningsen of "21st Century Wire," and other journalists to discuss the Establishment media and demonization and censoring of alternative outlets and voices, fake news, and the war on journalism. The Fourth Estate is dead; can we find ways to use alternative media to spread some truth around? The event is called: "Fake News – Establishment Media & War On Journalism;" it will take place at the Guildhall, Derry, on Thursday. (See here:
https://www.eventbrite.co.uk/e/imperialism-on-trial-fake-news-establishment-media-war-on-journalism-tickets-56245143739
Topics include: 'Russiagate'- can we really blame Trump's election on the Russians? False narrative on the war on Syria; The Magnitsky Act; Iran, Saudi Arabia, and what's not been reported on Yemen; Venezuela, and the Yellow Vests (Gilets Jaunes); Media & false consciousness; and, last but not least, Julian Assange.

Thirty complementary tickets have been set aside for the families of those murdered and wounded on "Blood Sunday," and a spokesman for the families has been asked to give remarks. Derry's City Councillors have also been invited to be our guests.
Thursday's speakers are:
Craig Murray, Former UK Ambassador to Uzbekistan
Ray McGovern, Former CIA Analyst
Patrick Henningsen, 21st Century Wire
Catherine Shakdam, Writer & Commentator
John Wight, Journalist
For both Belfast and Derry events:
Tickets are £5 online with EVENTBRITE, Imperialism on Trial; or £5 at the door.