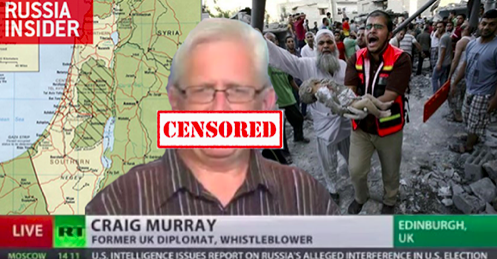 Introduction by Eric Zuesse, May 9, 2019
Former UK Ambassador Craig Murray was honored with the 4th annual Sam Adams Award for Integrity in 2005, [ See samadamsaward.ch ] He was the first male, the first Scot, and the second Brit (after Katharine Gun) to be so honored.
Below is the award citation:
==================
Know all ye by these presents that Craig Murray is hereby awarded The Corner-Brightener Candlestick, presented by Sam Adams Associates for Integrity in Intelligence.
As UK ambassador to Uzbekistan from 2002 to 2004, Mr. Murray learned that the intelligence authorities of the UK and the US were receiving and using information extracted by the most sadistic methods of torture by Uzbek authorities. He protested strongly to London, to no avail.
Mr. Murray stands out as one who did not forfeit his moral compass to his government or to his career. When his government colleagues referred condescendingly to his "qualms of conscience," he replied that he would not hide his shame "that I work in an organization where colleagues would resort to casuistry to justify torture."
Mr. Murray recognized that civilized societies have long recognized torture as an intolerable affront to the inherent human right to physical integrity and personal dignity—and that this is precisely why there are so many laws against torture. He did all he could to persuade his government not to condone it. It is shameful that this strong moral stance should jeopardize his promising career. He was forced out of the British Foreign Office, but has no regrets. There are more important things than career.
Nor will he cease to call attention to torture. We look forward to early publication of his book, Murder in Samarkand, now banned in Britain.
Mr. Murray's light has pierced a thick cloud of denial and deception. He has set a courageous example for those officials of the "Coalition of the Willing" who have first-hand knowledge of the inhuman practices involved in the so-called "war on terror" but who have not yet been able to find their voice.
Presented this 21st day of January 2006 in New York City by admirers of the example set by our former colleague, Sam Adams.
Full Disclosure: Amb. Murray is a good friend of Ray's.