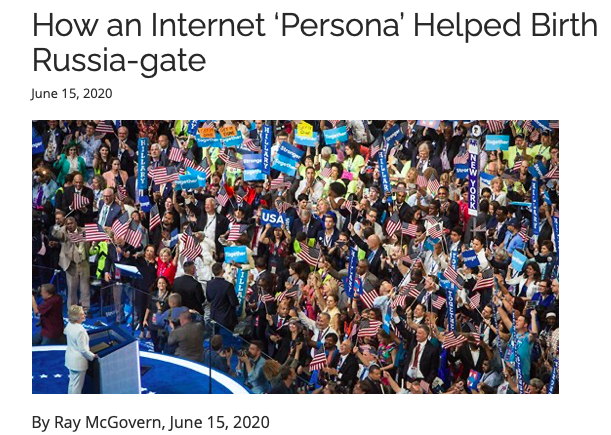 By Ray, June 18, 2020
After Consortium News published my June 15 article on the shadowy Guccifer 2.0 (See:  https://raymcgovern.com/2020/06/15/how-an-internet-persona-helped-birth-russia-gate/  ) a few commentators posted questions in the "Comments" section below the text of the piece.  One of them, "Sam", had a number of questions, which I attempted to answer as soon as I saw them.
Sam came back with still more questions, which I answered this morning. For those interested in Sam's first set of questions and my replies to them, they were posted earlier in the "Comments" section under the article. (The later exchange, of course, is also there.)
Some of the questions and answers are "down in the weeds". But others are of more general interest, I copy/paste in below my reply to Sam's second set of questions.
______________________
Ray McGovern
June 18, 2020 at 08:45
Sam,
Thanks for your reply to my reply. I could not agree more that, as you write, "These are really important issues and important to get right." I'll include below the text of your latest comment and will type my own comments in UPPER CASE. (Should you prefer a shortcut, you can go directly to my last few paragraphs at the end, where I include a list the most relevant, informative links.)

Your comment is copied in immediately below:

The problem is that even if you take Assange's words exactly as he spoke them, how is one to infer he meant DNC emails? AN EASY INFERENCE, IN VIEW OF WHAT HAPPENED IN THE IMMEDIATELY FOLLOWING DAYS.

The clear implication in your story is that on June 12, Assange says he has more emails ready to post. CORRECT, "PENDING PUBLICATION", TO BE MORE PRECISE.

Your assumption is DNC officials are first of all paying attention to his interview CORRECT and secondly they conclude that even though he never mentions DNC, he means DNC emails. AS NOTED IN MY JUNE 15 PIECE FOR GUCCIFER 2.0's 4TH BIRTHDAY ( https://raymcgovern.com/2020/06/15/how-an-internet-persona-helped-birth-russia-gate/ ), MUELLER GOT IT WRONG ABOUT WHEN THE DNC EMAILS WERE STOLEN. IT WAS ON MAY 23 AND 25, 2016.

ASSUMING THAT CROWDSTRIKE WAS NOT INCOMPETENT, I ADDED THAT "THIS WOULD HAVE GIVEN THE DNC TIME TO LEARN THAT THE STOLEN MATERIAL INCLUDED DOCUMENTS SHOWING HOW THE DNC AND CLINTON CAMPAIGN HAD MANIPULATED THE PRIMARIES AND CREATED A HOST OF OTHER INDIGNITIES, SUCH THAT SANDERS' CHANCE OF WINNING THE NOMINATION AMOUNTED TO THOSE OF A SNOWBALL'S CHANCE IN THE NETHERWORLD [AND] THERE WOULD BE NO WAY TO CHALLENGE THEIR AUTHENTICITY."

They then quickly pivot and in two days create a narrative out of thin air that Russians hacked DNC as a way to deflect from the content of the stolen emails, a small fraction of which revealed anti-Bernie bias among some DNC officials. THAT "SMALL FRACTION" WAS DEVASTATING — OR MIGHT HAVE BEEN, IF THE MEDIA HAD NOT QUICKLY PIVOTED TO BLAME RUSSIA.

It already doesn't add up. Think about the assumption — what if Assange didn't have DNC emails at all but instead had Clinton campaign emails. Why would DNC invent a story about Russian hacking DNC emails if Assange might have meant any number of other sources of emails?

THIS "WHAT IF" IS WHAT GRAMMARIANS CALL A "CONTRARY-TO-FACT-CONDITION". ASSANGE DID HAVE THEM, YES? AND THE DNC/CROWDSTRIKE, AGAIN ASSUMING MINIMAL TECHNICAL COMPETENCE, WOULD HAVE KNOWN, OR AT VERY LEAST SUSPECTED, THAT WHAT HE HAD WAS DAMNING.

But, as I pointed out, DNC hired Crowdstrike on April 30th. Did the DNC somehow anticipate that Assange would claim a month and a half later that he had Clinton campaign related emails and hired Crowdstrike all those weeks earlier to be prepared with, as you claim, the false Russia hack narrative? That's where the chronology you present really starts to crumble. AS YOU POINT OUT, SAM, THE DNC HAD ENCOUNTERED A NUMBER OF CYBER ATTACKS FOR MANY MONTHS.

I think you've done a good job stringing together bits and pieces of information and constructing a narrative to run contrary to the Russia hack narrative. NO. YOU SUGGEST A POLITICAL MOTIVE. I CONCEDE THAT IN THIS HIGHLY CHARGED POLITICAL ATMOSPHERE ONE IS ALMOST INEVITABLE. BUT IT JUST AIN'T SO, SAM. OUR MOTIVE IS TO GET AT THE TRUTH AND SPREAD IT AROUND, PURE AND SIMPLE.
And for those who aren't carefully and skeptically comparing your narrative against the evidence in the public record, BY THE "PUBLIC RECORD" YOU MEAN THE ESTABLISHMENT MEDIA? THE FINDINGS OF VIPS HAVE BEEN SHUNNED BY ESTABLISHMENT MEDIA it sounds plausible. 
But once you start to really dig in, the narrative you present doesn't hold together under scrutiny.

I'm sure you've spent time reviewing the chronology and evidence presented by Crowdstrike, which by the way is not, as is often suggested on this site, in the tank for Democrats. CROWDSTRIKE WAS WORKING FOR AND PAID BY THE DEMOCRATS; AND, SAM, YOU KNOW HOW CONTRACTORS WILL REGULARLY COME UP WITH THE WISHED FOR CONCLUSION. AND THEIR REPUTATION IS ON A PAR WITH THAT OF CHRISTOPHER STEELE, ALSO HIRED AND PAID FOR BY THE DNC.

AS CROWDSTRIKE BEGAN TO WORK FOR THE DNC, CROWDSTRIKE HAD JUST BEEN ADMONISHED BY THE GOVERNMENT OF UKRAINE FOR A REPORT CROWDSTRIKE HAD TO RETRACT; THE REPORT HAD CLAIMED THAT RUSSIA HAD HACKED THE UKRAINIAN MILITARY. EVEN VOA REPORTED ON THAT SCANDAL AT SOME LENGTH; THOSE DEPENDING ON THE ESTABLISHMENT MEDIA IN THE U.S. ALMOST CERTAINLY STILL DO NOT KNOW THAT. WHAT THEY "KNOW" IS THAT JAMES COMEY TOLD CONGRESS THAT CROWDSTRIKE IS A "HIGH-CLASS" OUTFIT. COMEY WAS SO PLEASED WITH CROWDSTRIKE THAT HE NEVER REQUIRED AN UNREDACTED FINAL REPORT FROM THEM. THAT SMELLS.

They are a big, well-respected company with a lot of corporate clients and with both Democrats and Republicans. According to industry experts I've talked to, they are one of the best cyber-security firms in the business. Anyway, here's their narrative: https://www.crowdstrike.com/blog/bears-midst-intrusion-democratic-national-committee/

Have you talked with Crowdstrike to challenge their narrative directly? VIPS' BILL BINNEY WAS ABOUT TO HAVE A DISCUSSION WITH THEM SEVERAL MONTHS AGO. BILL'S WILLINGNESS TO SHARE HIS DATA AND ANALYSIS WITH THEM WAS NOT RECIPROCATED BY CROWDSTRIKE. THE DISCUSSION NEVER HAPPENED.

Or have you talked with cyber-security experts to help assess Crowdstrike's information/reputation? OF COURSE; A LOT OF OUR MOST SOPHISTICATED SUPPORT CAME FROM INDEPENDENT, I STRESS INDEPENDENT, FORENSICS EXPERTS WHOSE MATERIAL VIPS' TWO FORMER NSA TECHNICAL DIRECTORS AND OTHER SPECIALISTS WE ENLISTED FOR SUPPORT WERE ABLE TO VET. Wouldn't that be part of a normal journalistic process to figure out what happened?

I have no problem with healthy skepticism and don't think journalism works without skepticism. But if you are going to present the insider thumb drive theory, I think we need to nail down the evidence, chase down the facts and fill in the gaps.

For instance, have you wondered why the FBI contacted the DNC in September 2015 and several other times prior to April 2016? How does that fit into your narrative? IRRELEVANT. IF VARIOUS CYBER OPERATIONS, INCLUDING FOREIGN GOVERNMENT ONES, WERE NOT TRYING TO HACK THE DNC, THEY WERE REMISS.

THE QUESTION IS WHETHER ANYONE, THE RUSSIANS OR ANYONE ELSE, STOLE THOSE EMBARRASSING EMAILS VIA A HACK. WE HAVE BEEN SAYING NO, BASED ON TECHNICAL EVIDENCE. CROWDSTRIKE HEAD SHAWN HENRY TESTIFIED UNDER OATH ON DECEMBER 5, 2017 THAT CROWDSTRIKE HAD NO CONCRETE EVIDENCE THAT THE DNC EMAILS WERE HACKED ("EXFILTRATED OUT OF THE DNC). AND THE "CIRCUMSTANTIAL" EVIDENCE HE ADDUCED IS FAR FROM PERSUASIVE. IT WOULD BE GOOD TO KNOW WHAT YOU THINK OF THAT, AND WHY HIS TESTIMONY HAS STILL NOT BEEN REPORTED IN ESTABLISHED MEDIA.

Or are we saying all of those contacts were made up? NO; THEY ARE JUST, IN MY OPINION, IRRELEVANT.

Why would DNC turn in all their laptops on June 10th two days before Assange's ITV announcement? PLEASE SEE ABOVE; THE DNC EMAILS WERE STOLEN ON MAY 23 AND 25 — QUITE ENOUGH TIME FOR CROWDSTRIKE TO DISCOVER AND TO TRY TO FIGURE OUT WHAT HAD BEEN READIED FOR EXFILTRATION (BUT NOT YET EXFILTRATED, AS HENRY TESTIFIED) BY INSPECTING SERVERS, LAPTOPS, YOU NAME IT. Have you talked with DNC staffers about this? Have you talked with DNC staffers about the phishing emails they received?

If you think Seth Rich was the insider thumb drive guy as you insinuate, what do you know about Seth Rich? INSINUATE IS NOT SOMETHING WE VIPS DO. AS YOU AWARE, WE BELIEVE CONSIDERABLE EVIDENCE POINTS TO A DNC INSIDER. AS I NOTED IN MY COMMENT TO YOUR COMMENT, "THE LEADING INSIDER SUSPECT WAS STILL ALIVE FOR FOUR WEEKS AFTER ASSANGE ANNOUNCED HE HAD THE "EMAILS RELATED TO HILLARY CLINTON WHICH ARE PENDING PUBLICATION." AND ASSANGE MENTIONED HIM BY NAME FOUR WEEKS AFTER RICH WAS MURDERED.

ASSANGE'S WORDS ABOUT SETH RICH, PLUS WIKILEAKS' OFFERING A $20,000 REWARD FOR INFO LEADING TO CAPTURE OF HIS KILLER(S), WERE VERY VERY UNUSUAL. (PERSONALLY, I INFERRED AT THE TIME THAT A SOURCE WHO WAS DEAD WAS PERHAPS DEEMED TO REQUIRE A LITTLE LESS IN THE WAY OF SOURCE PROTECTION.). BUT WE HAVE BEEN VERY CAREFUL TO DRAW A SHARP DISTINCTION BETWEEN WHAT WE KNOW (NO HACK) AND WHAT WE CAN ONLY SPECULATE ABOUT.

SINCE OUR CONCLUSION IS THAT AN INSIDER WAS THE KEY … WELL, WE HAVE THE NAME OF ONLY ONE SUSPECT —SETH RICH. AND THERE ARE MORE ANOMALIES AND TROUBLING QUESTIONS REGARDING WHAT HAPPENED TO HIM THAN YOU CAN SHAKE A STICK AT. THEN THERE IS THE FBI LYING IN INITIALLY SAYING IT DID NOT INVESTIGATE OR, INDEED, HAVE ANY MATERIAL AT ALL ON SETH RICH … WELL, AS I SAID IN MY PREVIOUS COMMENT, THIS IS IN THE COURTS NOW, SO WE CAN EXPECT, FINALLY, SOME SWORN TESTIMONY BEFORE TOO LONG.

For instance, do you know he interned for one of the most conservative Democrats in Congress? Do you know he worked in voter registration efforts and loved his job according to friends and family? Do you know he believed so strongly that everyone should vote — and that friends say he didn't care if you vote Dem or Republican, just that people from all political persuasions should be engaged? Does that sound like a disgruntle Bernie supporter? Have you called any of his friends and family to discuss any of these issues to get their take on things? Have you investigated whether Rich even had access to all those emails and files? Do you even know if he showed up for work on July 5th? Do you know he was offered a job on the Clinton campaign and friends think he was likely to accept it and move to Brooklyn? Do you know that when he was murdered, he was on the phone with a close friend and was approached on the street by two men a little after 4 in the morning, scuffled with them and was shot and left alive on the scene — he was alive when the police showed up — does that sound like a sophisticated assassination attempt? Are you aware of any other times DNC officials hired a hit squad to murder someone? Do you really think DNC or Democratic party leaders would respond to potentially unflattering emails by killing someone? IT DOES NOT MATTER WHAT I THINK, SAM, LET'S SEE IF THE COURTS CAN SHED LIGHT ON ALL THIS. WILL THEY BE WILLING TO TAKE ON THE FBI AND ITS MANY MEDIA SYMPATHIZERS? REMAINS TO BE SEEN.

I just don't buy the Rich was the insider theory and I have seen no tangible evidence at all supporting that theory. To the contrary, the evidence suggests he wasn't. SAM, DO YOU HAVE A MORE PLAUSIBLE CANDIDATE? … ANY OTHER NAMES? WILL YOU BE OPEN TO CHANGING YOUR MIND IF A COURT COMPELS THE U.S. GOVERNMENT TO PRODUCE ALLEGED EMAIL EXCHANGES BETWEEN WIKILEAKS AND SETH RICH?

We could go on and on with this.

SAM, HERE'S A WAY TO AVOID HAVING TO GO ON AND ON WITH THIS. SUFFICE IT TO SAY THAT, AS FAR AS I CAN TELL, YOU INCORRECTLY RECALL THE CONCLUSIONS IN OUR KEY VIPS MEMO TO THE PRESIDENT OF JULY 24, 2017 (  https://consortiumnews.com/2017/07/24/intel-vets-challenge-russia-hack-evidence/ .  LET ME SUGGEST THAT YOU READ IT AGAIN.THE ISSUES DISCUSSED ARE SOMEWHAT TECHNICAL, BUT YOU SEEM WELL UP TO HANDLING THEM.

HERE'S WHAT WE PUT IN THE EXECUTIVE SUMMARY, IN ORDER TO MAKE AS IT CLEAR AS POSSIBLE FOR THE PRESIDENT AND HIS ADVISORS TO UNDERSTAND. (AND, AS YOU MAY RECALL, TRUMP TOLD THEN-CIA DIRECTOR POMPEO TO INVITE BINNEY FOR A TALK IF HE WANTED TO REALLY KNOW ABOUT RUSSIA-GATE. THAT TALK TOOK PLACE ON OCT. 24, 2017.)

HERE WAS OUR BEST EFFORT TO PUT THINGS CLEARLY IN THE EXEC SUMMARY OF the VIPS Memo of July 24, 2017: IT HAS TO DO WITH GUCCIFER 2.0 WHO WE SUSPECTED THEN, AND KNOW NOW, IS AN OUT-AND-OUT FRAUD.

BEGIN QUOTE OF A "NOTE" FROM EXECUTIVE SUMMARY OF VIPS' MEMO OF JULY 24, 2017:
"NOTE: There has been so much conflation of charges about hacking that we wish to make very clear the primary focus of this Memorandum. We focus specifically on the July 5, 2016 alleged Guccifer 2.0 "hack." … we conclude that the same inside-DNC, copy/leak process was used at two different times, by two different entities, for two distinctly different purposes:
-(1) an inside leak to WikiLeaks before Julian Assange announced on June 12, 2016, that he had DNC documents and planned to publish them (which he did on July 22) …
-(2) a separate leak on July 5, 2016, to pre-emptively taint anything WikiLeaks might later publish by "showing" it came from a "Russian hack."
END OF QUOTE FROM VIPS MEMO (PLEASE SEE FURTHER SUGGESTIONS FROM ME BELOW, AT THE END OF MY COMMENT.)

For instance, if you look at the dates of the DNC emails on Wikileaks, the last one was sent on 5/25/16, which coincidentally is very consistent with the time frame Crowdstrike offers in their chronology of their work. Interestingly, their are a bunch of emails with a junk date stamp on them of 1/1/1970. But the oldest with a real date stamp is 9/16/2013. Then there is a trickle of emails from 2015. But the emails begin in earnest on 4/18/2016 and there are hundreds per day from that date through 5/25. Interesting pattern, don't you think? Lots of possible explanations, NOT SURE HOW THIS RELATES IN ANY SUBSTANTIVE WAY TO THE ISSUES AT HAND. but it's hard not to see a correlation between those email date stamps and the Crowdstrike chronology.

It's also curious how the July 5th thumb drive download date lines up with these days. So we are to assume that Rich or someone in the DNC had access to all those emails, downloaded them on July 5th, but restricted the email dates in this way? Again, there might be some explanations, but doesn't that seem a little strange? Why not download emails through July 5th. Why cut them off more than a month earlier?

Another curious question — So we're supposed to believe DNC conspired with Crowdstrike to invent the Russia hack story after more then a month working with Crowdstrike (and before that with the FBI, but put that aside) and announce two days after Assange's vague mention of more Clinton campaign emails — but it's not until July 5th that a DNC insider downloads the emails? And Assange says he has emails nearly a month prior? That's pretty curious, isn't it? If there's an explanation, I'd love to hear it.

I could keep going. DNC makes up this Russia hack story and then Podesta gets hacked then Russians are involved in earned and paid social media efforts to target voters. I'm not going to claim those social media posts had an impact — that's a debate for another time. But seems pretty coincidental, no?

Also keep in mind the Trump Tower meeting, which I admit seems to have amounted to nothing, took place on June 9th, basically according to the official narrative around the time Crowdstrike blocked the hackers from DNC servers. Just plot those dates and sort out what makes sense. May 1, Crowdstrike starts working with DNC. May 25, the last time stamp on a DNC email. June 9th, Trump Tower meeting. June 10, DNC laptops swapped out. June 12, Assange says he has Clinton Campaign emails. June 14, Crowdstrike announces they have blocked Russian hackers from DNC. Then July 5th is when supposedly a DNC insider downloaded emails on a thumb drive? Any way to stitch this together because I'm not seeing it.

But again, as I have suggested, come forward with a full account*** and answer these questions. If you can develop a narrative that matches these facts, I'd love to read it. And I promise to keep an open mind. Until then, I'm not seeing truth here.

Thank you for your consideration.

+++++++++++++++++
*** OK; FOLLOWING IS A FULL ACCOUNT FROM ME (HERE LACKING UPPER CASE):

Late last year DNC-related lawyers and Seth Rich's brother Aaron were working overtime in what seemed to be an effort to put the kibosh on any speculation that Seth and/or Aaron were instrumental in the leak of the DNC emails. Giving people the benefit of the doubt, it seemed that it was simply impossible for most folks to believe there could be a thing called professional, bias-free analysis.

The challenge was clear but, we did not think, insurmountable. We went to the unusual step of including in the text of our key VIPS Memorandum For the President of July 24, 2017. Intel Vets Challenge 'Russia Hack' Evidence, ( https://consortiumnews.com/2017/07/24/intel-vets-challenge-russia-hack-evidence/ ) this truth-in-advertising-type notice:

"Full Disclosure: Over recent decades the ethos of our intelligence profession has eroded in the public mind to the point that agenda-free analysis is deemed well nigh impossible. Thus, we add this disclaimer, which applies to everything we in VIPS say and do: We have no political agenda; our sole purpose is to spread truth around and, when necessary, hold to account our former intelligence colleagues.

"We speak and write without fear or favor. Consequently, any resemblance between what we say and what presidents, politicians and pundits say is purely coincidental. The fact we find it is necessary to include that reminder speaks volumes about these highly politicized times."

SUBPOENA ENVY: Starting late last year, several VIPS members were served highly intrusive subpoenas on the Russian hacking issue.  I confess that, for a couple of months I had a touch of subpoena envy.  Then, alas, I was served — two subpoenas so far.

In my initial response last December to the first subpoena, I took some pains to lay out, as concisely as I could, what VIPS believes and why.  And I added enough links to help anyone seriously interested in learning the longer story of VIPS' conclusions. The subpoena and my response was posted on raymcgovern.com, my website (see https://raymcgovern.com/?s=gottlieb ) ***
Sam, please have a look at this, including the articles I linked at the end of my response to the subpoena. After that, if you still have unanswered questions, please let me know.

***  (See raymcgovern.com website, "Text of Ray's Subpoena Response to Aaron Rich and DNC-Affiliated Lawyers".)

Ray McGovern