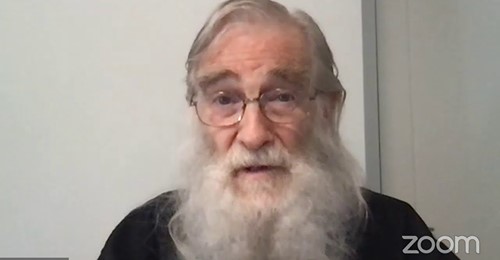 By Ray McGovern, June 9, 2021
Julian Assange's father, John Shipton, and his brother Gabriel, together with Jill Stein and me among others, spoke briefly earlier today at Community Church of Boston as the "Home Run for Assange" U.S. Tour/2021 reached New England.
The highlight was Julian's father accepting the Sacco and Vanzetti Award given annually for the past 45 years by Community Church of Boston — the first church to protest loudly the travesty of justice accorded Sacco and Vanzetti, both of whom were falsely convicted and executed in 1927. A Community Church stalwart, David Rothouser, presented a brief summary of that sordid affair and discussed the continuing support for justice provided by 101 year-old Community Church.
Order of Talks
Fast-forward: The actual event does not begin until minute 26:05 of the YouTube video (see link below) with a song and brief welcome by Dean Stevens, musician and a leader of the church. David Rothouser begins speaking at minute 29:00; Jill Stein at min. 37:00. I speak for 11 minutes, starting at min. 49.
John and Gabriel Shipton are then interviewed before the Sacco and Vanzetti award is accepted by John on behalf of the awardee — his son, Julian Assange.
Musician David Rovics provides a moving coda to the affair, singing a song he composed about Julian — a song he actually performed in front of the walls of Her Majesty's Prison Belmarsh. The song is "Behind These Prison Walls".