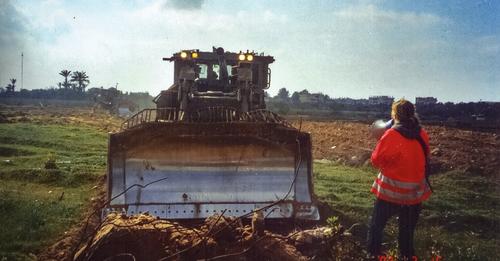 By Ray McGovern, July 15, 2022
The truth is finally out – in extremely sad but digestible form. With a US-made bulldozer Israel deliberately crushed 23 year-old US citizen Rachel Corrie dead in Gaza on March 16, 2003. Jelly-spined US officials knew the details, but have covered up for Israel.
Rachel's parents and sister have gone through Hell in trying to get justice done, in vain. Not until now has most of their story been told. Alice Speri of The Intercept has done so. Her detailed article appeared on July 13 ( See: https://theintercept.com/2022/07/13/israel-rachel-corrie-shireen-abu-akleh-killings/ )
In 2004, over a long brunch with Rachel's parents, Cindy and Craig, I asked Craig about the green wristband he was wearing. He took it off and let me read it. It said simply: " Rachel Corrie, April 10, 1979 – March 16, 2003". I was moved; Craig asked me if I wanted to have it. He took it off his wrist; I put it on mine. I have worn it ever since.
The Intercept piece by Alice Speri is MUST reading.