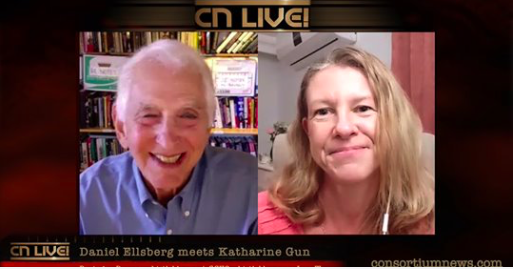 By Ray McGovern, September 27, 2019  
On CNLive yesterday evening (link below), Ray discussed the new "Ukraine-gate" whistleblower, who is reported to be a CIA officer who spent some time on detail to the White House. Ray begins with a brief discussion of the intelligence officer-policy maker nexus — particularly the need for the intelligence officer to keep abreast of the interests and needs of the policy maker without becoming seduced into active advocacy of this or that policy.
Ray outlines how Robert Gates placed on steroids the practice of inserting intelligence officers into policy departments, and offers short case studies, demonstrating the need to keep a respectful space between intelligence and policy — not to mention the invaluable credibility and trust that accrues to an intelligence officer who avoids the slightest appearance of policy advocacy. In contrast, there has been serious mischief — and worse — when intelligence analysts, sitting side-by-side with policy makers, slip into the role of policy maker, blurring the lines and letting their own political/ideological views (and/or the views of those who "detailed" them) — intrude inappropriately on policy making.
Seconding CIA officers to policy making offices increases this risk severalfold. The reported detailee "whistleblower" for Ukraine-gate needs to be scrutinized in this context.
Filing a complaint, based on hearsay, to the Inspector General of National Intelligence to investigate the president? Really? What did the "whistleblower" really have in mind? Already discernible with the initial leaks of this story to the media was the stench of rotting red herring.
https://consortiumnews.com/2019/09/27/watch-cn-live-tonight-with-katherine-gun-daniel-ellsberg-scott-ritter-ray-mcgovern-on-whistleblowing-the-iraq-war-and-impeachment-8-pm-edt/

(Ray's segment goes from minute 7:55 to 44:40; the whole CNLive video is worth watching.)